You are here:
Home
/ Social Media and More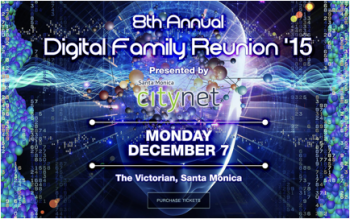 Come one, come all to the annual Digital Family Reunion holiday party!
This year we will be gathering at the Victorian in Santa Monica, CA for what will be the largest digital holiday party in Los Angeles.
We are pleased to offer $10 off your ticket price with the promo code of  DFR15.
Please reserve your tickets on Eventbrite.
We look forward to seeing you there.
What: Digital Family Reunion Holiday Party
When: Monday, December 7, 2015 6p-11p
Where: Victorian, 2640 Main Street, Santa Monica, CA
Why: Because all of the cool digital peeps will be there!
About Digital Family Reunion
Digital Family Reunion '15 celebrates and connects Southern California's Technology and Business Communities. In association with some of the region's top trade associations and social networking groups, the 8th annual Digital Family Reunion promises to help weave our various communities of interest into the larger collective family of professionals working in and around the technology industry. DFR '15 will cross pollinate leaders from all the major industry sectors such as media, entertainment, finance, publishing, venture funding, software, commerce, education, and many more. Join us for the Holiday Event of the Season.
This week, once again I attended Digital Hollywood at the Loews Hotel in Santa Monica, CA.
It was a very enthusiastic iPad-friendly crowd where the theme throughout the past few days was branded content.
On the first day, Variety held their bi-annual Entertainment and Technology Summit. The event kicked off with Variety's Publisher, Brian Gott, introducing Revolution Studios founder, Joe Roth. The summit included a lively web video panel with actors Illeana Douglas, host of the Ikea sponsored Easy to Assemble and Kevin Pollak from The Kevin Pollack Chat Show, who called YouTube "Entertainment for the groin." He reminded us that soap detergents created the soap opera. Brian Firenzi from 5 Second Films praised the iPad as a television that you can carry with you. Jason Goldberg, Co-founder of Katalyst said, "We create marketing networks for brands."
At the "Hollywood and Media Reinvented" panel, the word was clearly that content now needs to be conceived as more than just a television show. "It's a combination of branded entertainment going forward," said Greg Kahn, panelist and EVP, Business Development and Director at Optimedia, U.S.
Sharon Waxman, Editor in Chief of TheWrap.com led a packed panel on "Hollywood 2.0: Content and Commerce" She talked about how the entertainment industry is changing along with Funny or Die's Marcelo Camberos, Reveille's EVP, Digital and Production Jared Tobman, Roy Bank, President, Television for Merv Griffin Entertainment, Joe Michaels, Sr. Director, The Online Audience Business Group at Microsoft, and Eric Berger, SVP, Digital Networks and GM of Crackle.com.
After a standing-room only crowd at the "Web Series Development – Pilot season without a Net" panel, I had the chance to speak with Internet TV pioneer, Jim Louderback, CEO of Revision3 about the future of Internet Television.
Revision3 creates and produces all-original episodic community driven programs and has close to 10-million downloads per month.
Their shows include Diggnation and Tekzilla, which bring in $1 million or more in revenue each, with well over one million views per show. Diggnation took home the award for Best Hosted Web Series in the 2010 Streamy Awards.
I asked Louderback what makes a good Internet TV show. He replied with, "It starts with an engaging host that talks about topics they are passionate about."
Louderback takes a "best available" screen approach and said, "If all you have is your cell phone, you'll watch on your cell phone." He added, "If the iPad is the best screen available in the house, it won't be the only one. There will be a plethora of screens to choose from."
As far as monetization, everyone agreed. "Bring in the brands."
Julie Spira is an author and social media expert. She is the founder of Social Media and More

Today, the largest social networking site Facebook made a major change to its fan pages. They introduced the new and improved "like" button.
Previously when fan pages were created, you needed to become an official fan to join by clicking on a button that said "Become a Fan."  Apparently this put some pressure on users who might like a particular brand, but didn't want to fully endorse it. Now, in an effort to keep things lighter, "Fan" pages have been re-named "Like" pages. A new button has replaced the "Fan Button" with a "Like Button."
The functionality will remain the same as you will become someone who likes a particular page or brand on Facebook, but in a less-pressured environment.
Facebook is also now allowing you to control which pages show up on your profile. Thank you Facebook. This is excellent news as it helps businesses who may be following their competitors to push that page lower or prevent it from showing up under pages that you like in a search.
Not to be confused with liking a particular post on a page or your friends pages, the term "like" still applies to posts.
Feeling confused? Check out Facebook's FAQs for more details.
PICK MY BRAIN!

Have a question about Social Media? I'll critique your site or blog, take a quick peek at your social media, and give you my expert opinion. Get 20 valuable minutes of my time to ask me anything.

CONNECT WITH US!

TESTIMONIALS

Julie has always been on the leading edge of internet expertise. She was there when the web first became a viable commercial medium and was a leader in understanding and executing in Web 2.0.

~Roger Chiocchi
Brandloft