You are here:
Home
/ Archives for technology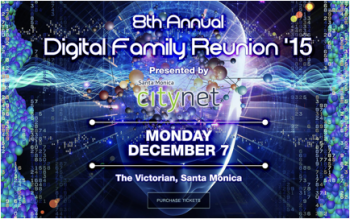 Come one, come all to the annual Digital Family Reunion holiday party!
This year we will be gathering at the Victorian in Santa Monica, CA for what will be the largest digital holiday party in Los Angeles.
We are pleased to offer $10 off your ticket price with the promo code of  DFR15.
Please reserve your tickets on Eventbrite.
We look forward to seeing you there.
What: Digital Family Reunion Holiday Party
When: Monday, December 7, 2015 6p-11p
Where: Victorian, 2640 Main Street, Santa Monica, CA
Why: Because all of the cool digital peeps will be there!
About Digital Family Reunion
Digital Family Reunion '15 celebrates and connects Southern California's Technology and Business Communities. In association with some of the region's top trade associations and social networking groups, the 8th annual Digital Family Reunion promises to help weave our various communities of interest into the larger collective family of professionals working in and around the technology industry. DFR '15 will cross pollinate leaders from all the major industry sectors such as media, entertainment, finance, publishing, venture funding, software, commerce, education, and many more. Join us for the Holiday Event of the Season.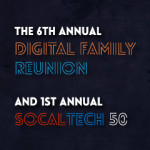 It's a holiday tradition for social media enthusiasts and technology executives…The Digital Family Reunion in Los Angeles.
On Wednesday, December 11, 2013 from 6pm – 10pm, join Southern California's largest holiday gathering of technology and digital media professionals at the Skirball Cultural Center. In partnership with socalTECH.com, DFR '13 will honor the inaugural socalTECH 50 list of emerging visionaries, technologists and entrepreneurs most likely to create the next breakout company, technological leap, or otherwise influence the industry in a significant way.
The event started off as a gathering of Web 1.0 and Web 2.0 strategists and has evolved to being the holiday party of the season.
Now, it's no secret that the SoCal tech scene is on fire. Google, YouTube and others have opened major offices in LA. Incubators abound, and start-ups are emerging once again from garages, coffee shops and co-working spaces across the region. Even in December, it's going to be hot hot hot!
Who Will Be There?
With 40+ community partners and sponsors reaching out to their core constituencies, it will be a mash-up of who's who in social business and tech. This cross-disciplinary affair ensures a room full of people you just have to meet, including those being honored at the socalTECH 50.
Tickets are $50, but we've got a promo code to save you $20.
REGISTER NOW at http://www.digitalfamilyinc.com and use promo code DFR30 at check out.
We look forward to seeing you there.
Ever since Steve Jobs announced on March 2nd that the iPad-2 would be released on March 11th, I waited with enthusiasm for the day to arrive.
The fear of standing in long lines at the Apple store resulted in my calling the Apple sales line early this morning to find out the details on how to purchase my iPhone 64 GB 3-G model. It's expected that over 600,000 iPad 2 tablets will be sold this weekend and I was determined to be one of them.
The sales representative at Apple was extremely helpful and told me there would be a 3-week wait to receive the device. Impatient as many others were, I called Verizon Wireless to see what their turn-around would be and found out that the local store would be getting their arrival at 4:00pm, local time. iPad enthusiasts had the opportunity not only to purchase their iPad today at their local Apple Store, but the tablets were also sold at Best Buy, Verizon Wireless stores, Walmart, AT&T, and Target.
The sales associate at the Verizon Wireless store told me to stop by just before 5:00pm and assured me there wouldn't be a wait. It sounded too good to be true, so I decided to arrive 2-hours early at 3:00pm, local time along with a book to read and my own folding chair. I checked in on foursquare and happily tweeted that I was first in line waiting for my very first iPad.
Unfortunately, there was some confusion at the local store and we were told we needed to sign a 2-year data contract. Angry purchasers insisted the information was wrong and a confrontation erupted. The information was indeed incorrect. No apology was given for the miscommunication.
Those waiting in line shared which model they wanted to purchase. I knew I wanted one in white. The gentleman behind me wanted one in black. One woman was buying an iPad-2 for her fiancé as a birthday present.
Unfortunately, the local Verizon store only received four boxes of the long-awaited tablet in their shipment. There were many angry people who waited in line for over an hour, only to find out the store was out-of-stock after the first few in line finished their purchase.
At 5:10pm, I went home with my new iPad-2. Although my first choice of a red leather cover was unavailable, I realized I was one of the chosen few in the neighborhood. I'll be using the iPad-2 for presentations, editing in iMovie, and to write content for a variety of websites and blogs.
Did you get an iPad-2? Will you wait for the frenzy to be over?
Filed under Social Notebook · Tagged with Apple, first ipad buyer, first to buy an ipad 2, ipad, ipad 2, julie spira, social media, Social Media and More, steve jobs, technology, verizon ipad
This week, once again I attended Digital Hollywood at the Loews Hotel in Santa Monica, CA.
It was a very enthusiastic iPad-friendly crowd where the theme throughout the past few days was branded content.
On the first day, Variety held their bi-annual Entertainment and Technology Summit. The event kicked off with Variety's Publisher, Brian Gott, introducing Revolution Studios founder, Joe Roth. The summit included a lively web video panel with actors Illeana Douglas, host of the Ikea sponsored Easy to Assemble and Kevin Pollak from The Kevin Pollack Chat Show, who called YouTube "Entertainment for the groin." He reminded us that soap detergents created the soap opera. Brian Firenzi from 5 Second Films praised the iPad as a television that you can carry with you. Jason Goldberg, Co-founder of Katalyst said, "We create marketing networks for brands."
At the "Hollywood and Media Reinvented" panel, the word was clearly that content now needs to be conceived as more than just a television show. "It's a combination of branded entertainment going forward," said Greg Kahn, panelist and EVP, Business Development and Director at Optimedia, U.S.
Sharon Waxman, Editor in Chief of TheWrap.com led a packed panel on "Hollywood 2.0: Content and Commerce" She talked about how the entertainment industry is changing along with Funny or Die's Marcelo Camberos, Reveille's EVP, Digital and Production Jared Tobman, Roy Bank, President, Television for Merv Griffin Entertainment, Joe Michaels, Sr. Director, The Online Audience Business Group at Microsoft, and Eric Berger, SVP, Digital Networks and GM of Crackle.com.
After a standing-room only crowd at the "Web Series Development – Pilot season without a Net" panel, I had the chance to speak with Internet TV pioneer, Jim Louderback, CEO of Revision3 about the future of Internet Television.
Revision3 creates and produces all-original episodic community driven programs and has close to 10-million downloads per month.
Their shows include Diggnation and Tekzilla, which bring in $1 million or more in revenue each, with well over one million views per show. Diggnation took home the award for Best Hosted Web Series in the 2010 Streamy Awards.
I asked Louderback what makes a good Internet TV show. He replied with, "It starts with an engaging host that talks about topics they are passionate about."
Louderback takes a "best available" screen approach and said, "If all you have is your cell phone, you'll watch on your cell phone." He added, "If the iPad is the best screen available in the house, it won't be the only one. There will be a plethora of screens to choose from."
As far as monetization, everyone agreed. "Bring in the brands."
Julie Spira is an author and social media expert. She is the founder of Social Media and More
PICK MY BRAIN!

Have a question about Social Media? I'll critique your site or blog, take a quick peek at your social media, and give you my expert opinion. Get 20 valuable minutes of my time to ask me anything.

CONNECT WITH US!

TESTIMONIALS

"Julie Spira is a smart, savvy businesswoman and expert social media strategist. An early adopter of the internet, Julie has fully embraced the world of social media becoming an in-demand expert as a social media strategist. She has developed cutting edge social media strategies for my businesses and several of my clients' businesses. Julie is smart and intuitive. She cuts through all the social media "chatter" and shows you the exact strategies needed to implement effective social media marketing for your business. No cookie cutter approaches here, Julie provides a personalized plan in alignment with your exact business goals. Julie's...

Creating Fame Online
Creating Fame Online