You are here:
Home
/ Archives for social media marketing

For those who are addicted to their social networking sites and have enjoyed watching their Klout score rise, there's good news for you.
Klout, who collects data from your Twitter account has now added Facebook to the equation. As a result, your Klout score may go up and there's a bunch of new graphs to enjoy.
For those who don't know what Klout is, it's a system that rates your online influence in a variety of categories. It isn't about the number of your followers or fans, but the quality of your content, engagement, and followers on the social web.
You can secretly obsess about your Klout score or share it on Twitter or Facebook for the world to see.

Not only can see the details of your score summary, true reach, amplification, and network, but you'll become categorized as a social media type. With Facebook added to the equation, you won't only see your Retweets, but you'll get a summary of your total likes, total comments, and unique likers as well.
You'll see your network score with your true reach and a variety of graphs.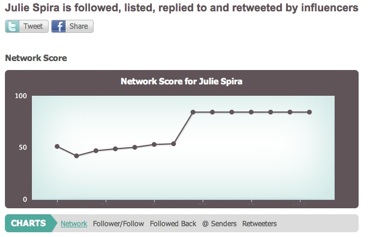 Interested in finding out your Klout personality type? It's uncanny, but seems to be accurate with most of the social media people I know.

For more information, visit Klout.com
We're in the middle of Social Media Week in Los Angeles and it's been an exciting time for social media enthusiasts. Social Media Week is being held in Mexico City, Buenos Aires, Milan, and Bogota – Columbia. Most of the events are free and donations are being made via Twelethon.com to benefit Inner City Arts.
For those around the world who can't attend these events, many of them are being streamed on UStream at socialmediaweek.org/live
In honor of Social Media Week, Social Media and More is offering a special 20% discount on all of our social media marketing programs.  Take advantage of savings from $200-$1500. The Social Media Week promotion is valid through 11:59pm/PT on Friday, September 24, 2010.
Spots are already filling up and I'm so excited to meet so many of you this week. Even if you are not attending the 5-day celebration, I encourage you to visit our site to learn how we can help you create your personality and brand on the web. From building your Twitter personality and Facebook page, to teaching you how to engage in a meaningful way, we'll be at your side. Authors, businesses and individuals, it's time for you to get more social on the web.
Contact us at socialmediamore.com/contact for more details.
Julie Spira, a talented internet industry vet, is joining Brandloft, the award-winning strategic marketing and branding communications agency, as EVP, Director of Social Media.
SOUTH NORWALK, Conn. – In a move to extend the depth and breadth of its client solutions and strengthen its social media offering, Brandloft today named Julie Spira as executive vice president and director of Social Media.

According to Brandloft principal, Roger Chiocchi, the move recognizes the importance of social networks in today's media mix, and strengthens Brandloft's hand as a player in the emerging online market. Based here, Brandloft is a branding and marketing firm with multinational and regional clients in the B2B and B2C space.

"Julie is an innovator in the field, and one of the first marketing executives to really get on the online bandwagon in the mid-1990s. She's seen the industry develop and has stayed ahead of the curve," said Chiocchi.

Based in Los Angeles, Spira will not only head Brandloft's social media offering but run business development for the firm on the West Coast.

"Running social media out of LA is great for us," said Chiocchi, "and gives us an added presence on the West Coast, which is known as the hub for digital media.

According to Spira, "Social Media is transforming how marketing communications is applied and how it is delivered. In many respects, it levels the playing field, but to do it effectively takes strategy, insight and vigilant execution. That's what we're doing for our clients at Brandloft."

Spira brings more than 25 years of sales and marketing experience to the firm, and has served as an executive of several start-up Internet and communications companies, including RKO Radio Networks – the first digitally delivered satellite radio network. Spira also held the positions of Vice President, Broadcast Sales of IDB Communications Group, Vice President Sales – Xing Technology – the first online streaming software company, and Executive Vice President at InterPacket Networks – a global provider of high-speed Internet via Satellite which was acquired by American Tower.

About Brandloft
Brandloft is an award-winning strategic marketing and branding communications firm helping clients to strengthen their brands, reach and engage audiences in new and innovative ways, and drive revenue. Reach Brandlfoft at 203-857-4141, or online at www.brandloft.com .
Click here to read full release
It's an honor to be the featured  Newsmaker of the Week in the Los Angeles Business Journal.
LOS ANGELES BUSINESS JOURNAL


FEATURED NEWSMAKER
Marketing Executive Keeps Things Social on Internet
by Susannah Snider
For Julie Spira, the Internet is all about connecting.
As the new executive vice president and director of social media at the Marina del Rey office of marketing firm Brandloft, Spira will teach clients to tap into online resources such as blogs, Facebook and LinkedIn to promote products.
"It's become so important," she said of online social marketing. "If you don't have a great social media presence, you're really missing the mark."
Businesses have been getting online advertising wrong, she said. Some annoyingly spam their audiences, others fail to stay abreast of new trends and some rely on promotions that are just too slick.
"Authenticity is really in," noted Spira, who grew up in Glen Rock, a small New Jersey town. "You either embrace it or try to run from it, and you can't run very far."
And when it comes time to show clients a successful case study of her work, she won't have to look too far. Spira used online social media to promote her book, "The Perils of Cyber-Dating: Confessions of a Hopeful Romantic Looking for Love Online."
"I thought if Obama could become president of the U.S., when no one really knew who he was, because of his marketing prowess, then why couldn't I have a best-selling book?" said Spira, who created a Web site and Twitter feed to promote her memoir from Morgan James Publishing. "My online dating and social media expertise have come hand in hand."
Indeed, her marketing plan for the book is what drew the attention of executives at Brandloft and got her the new job.
"Brandloft contacted me in May," Spira said. "They were so impressed with what I had done, and they knew about my background in marketing."
In addition to the book, Spira counsels would-be Web romantics through her online show, "Ask the Cyber Dating Expert." The Webcast can be heard on logTalkRadio.com or on her Web site, CyberDatingExpert.com. On the program, she provides tips such as using a catchy screen name and investing in professional photos when putting together a profile for sites like Match.com.
"When a guy or woman doesn't put their photo up, there's something wrong with them," she warned.
Spira, 52, is single and lives in West Los Angeles. In her spare time, she enjoys playing piano and going to concerts at Walt Disney Concert Hall, where she is a season subscriber.
Copyright Los Angeles Business Journal

What's all the buzz about social media?
Why do I have to go on Twitter and what exactly is a Tweet?
What's the difference between a Facebook Fan Page and a Facebook Group?
How can I find followers and how will they find me?
If you are asking yourself these questions, you have come to the right place.
At Social Media And More, we help authors, individuals, and businesses become social in the 21st century.
From setting up your social media presence, to teaching you the proper netiquette and create a following, we will make you stand out on the web and take your marketing and brand to a whole new level.
Contact us for more information on how we can create your personality and brand on the web.
PICK MY BRAIN!

Have a question about Social Media? I'll critique your site or blog, take a quick peek at your social media, and give you my expert opinion. Get 20 valuable minutes of my time to ask me anything.

CONNECT WITH US!

TESTIMONIALS

On behalf of MAZON and the children of Haiti who we will feed and nourish, I am deeply indebted for the social media marketing that Julie Spira provided for this benefit concert. Without her creating a 'buzz' in such a short time, I am certain the event would not have been the success it was. Thank you Julie

Dr. H. Eric Schockman
Former President of MAZON