You are here:
Home
/ Archives for los angeles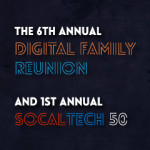 It's a holiday tradition for social media enthusiasts and technology executives…The Digital Family Reunion in Los Angeles.
On Wednesday, December 11, 2013 from 6pm – 10pm, join Southern California's largest holiday gathering of technology and digital media professionals at the Skirball Cultural Center. In partnership with socalTECH.com, DFR '13 will honor the inaugural socalTECH 50 list of emerging visionaries, technologists and entrepreneurs most likely to create the next breakout company, technological leap, or otherwise influence the industry in a significant way.
The event started off as a gathering of Web 1.0 and Web 2.0 strategists and has evolved to being the holiday party of the season.
Now, it's no secret that the SoCal tech scene is on fire. Google, YouTube and others have opened major offices in LA. Incubators abound, and start-ups are emerging once again from garages, coffee shops and co-working spaces across the region. Even in December, it's going to be hot hot hot!
Who Will Be There?
With 40+ community partners and sponsors reaching out to their core constituencies, it will be a mash-up of who's who in social business and tech. This cross-disciplinary affair ensures a room full of people you just have to meet, including those being honored at the socalTECH 50.
Tickets are $50, but we've got a promo code to save you $20.
REGISTER NOW at http://www.digitalfamilyinc.com and use promo code DFR30 at check out.
We look forward to seeing you there.
On Sunday, March 4, 2012, join me at Book Savvy 2012, a full day of book promotion, social media marketing, publishing and publicity options in Los Angeles.
This annual event, produced by the Los Angeles chapter of the Women's National Book Association will help aspiring writers and published authors learn everything they need to know to be successful in the digital age of publishing.
It's an honor to be the moderator at the first session in the morning program, Book Promotion and Publicity, where you'll learn how to become a professional speaker;  the art of social media for authors including Twitter, Facebook, blogging, Google+ and Pinterest; how to promote your book and brand; and learn about using video for book promotions and trailers.
The panelists include:
Liora Mendeloff, founder of Women's Speakers Association
Erin Reel, writers coach and editorial consultant
Lon Levin, an expert on book trailers and promotional graphics.
Our panel will be held at 9:15am – 10:15 am.
Other sessions include:
Pre-Program Pitch Prep Session, 7:30am – 8:30am (*$25 extra)
Learning to Self-Publish, 10:45am – 11:45am
Lunch, 12:00pm – 1:30pm
Pitch Your Book to Agents & Producers, 12:30pm – 1:30pm
Literary Agent Panel, 1:30pm – 2:30pm
eBooks and Apps: Where Technology and Publishing Intersect, 2:45pm – 3:45pm
The event will be held at the Marina del Rey Hotel, 13534 Bali Way, Marina del Rey, CA 90292. Parking is free at the event and includes a light breakfast, coffee, snacks, and Italian buffet lunch, and dessert.
Register now at wnba-books.org/la
Follow Julie on Twitter @JulieSpira and at Facebook.com/SocialMediaandMore
Filed under Social Notebook · Tagged with authors, book promotion, book publishing, book savvy, book savvy 2012, julie spira, los angeles, Social Media for Authors, WNBA, womens national book association, writers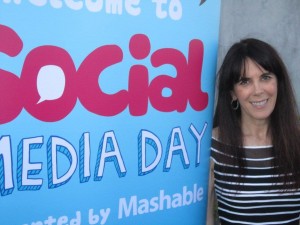 Mashable and CBS News joined together at the rooftop studio of CBS.com's What's Trending for the second annual Social Media Day in Los Angeles.
The event, created by Mashable and held in 90 countries around the world, included 1400 meetup's.  I was fortunate to have attended the Los Angeles gathering at CBS's What's Trending headquarters along with many of my social media friends.
Adam Ostrow, Mashable's editor-in-chief welcomed us at the rooftop party with a 360 degree view of Hollywood. Shira Lazar, producer and host of What's Trending gave us a tour of their studios, where Evan Lowenstein, founder of Stageit was performing and streaming live .
Guests enjoyed cocktails from Veev, wine from One Hope, a photo booth from Polite in Public, and snacks from Pop Chips and Pretzel Chips.
No social media event would be complete without a contribution to social good. HeadBlade, who provides razors and grooming products for the shaved head look, donated $1 for each tweet with the hashtag of #SMDayLA to the St. Baldrick's Foundation, a volunteer-driven charity committed to funding the most promising research to find cures for childhood cancers and give survivors long and healthy lives.
Among the attendees were my social media friends Amanda Coolong, Marsha Collier, Curt Buthman, Michale Pilla, Heather Meeker, Matt Meeker, Melissa Rowley, Marla Shulman, Seth Shapiro, Calvin Lee, KW Low, AV Flox, Alana Joy, Robert Moran, Kevin Winston, and Andy Sternberg. Many thanks to Marsha Collier for taking the photos.
How did you celebrate Social Media Day? Share your thoughts and follow Julie on Twitter @JulieSpira and like us at facebook.com/SocialMediaandMore
Filed under Social Notebook · Tagged with Adam Ostrow, julie spira, los angeles, Marsha Collier, mashable, Shira Lazar, social media, Social Media and More, social media day, social networking, What's Trending
PICK MY BRAIN!

Have a question about Social Media? I'll critique your site or blog, take a quick peek at your social media, and give you my expert opinion. Get 20 valuable minutes of my time to ask me anything.

CONNECT WITH US!

TESTIMONIALS

Julie is a Social Media Wizard! In less than 5 minutes, she had me up and running with my own URL on Facebook in minutes and taught me social media tips that would have taken me months and months to figure out on my own. Her expertise is invaluable!

~Nancy McKain
Owner, The Bracelet Bar at Serenity