You are here:
Home
/ Archives for DFR 15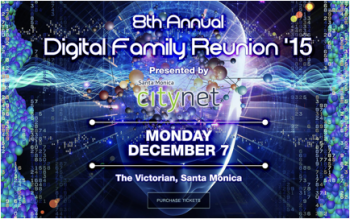 Come one, come all to the annual Digital Family Reunion holiday party!
This year we will be gathering at the Victorian in Santa Monica, CA for what will be the largest digital holiday party in Los Angeles.
We are pleased to offer $10 off your ticket price with the promo code of  DFR15.
Please reserve your tickets on Eventbrite.
We look forward to seeing you there.
What: Digital Family Reunion Holiday Party
When: Monday, December 7, 2015 6p-11p
Where: Victorian, 2640 Main Street, Santa Monica, CA
Why: Because all of the cool digital peeps will be there!
About Digital Family Reunion
Digital Family Reunion '15 celebrates and connects Southern California's Technology and Business Communities. In association with some of the region's top trade associations and social networking groups, the 8th annual Digital Family Reunion promises to help weave our various communities of interest into the larger collective family of professionals working in and around the technology industry. DFR '15 will cross pollinate leaders from all the major industry sectors such as media, entertainment, finance, publishing, venture funding, software, commerce, education, and many more. Join us for the Holiday Event of the Season.
PICK MY BRAIN!

Have a question about Social Media? I'll critique your site or blog, take a quick peek at your social media, and give you my expert opinion. Get 20 valuable minutes of my time to ask me anything.

CONNECT WITH US!

TESTIMONIALS

On behalf of MAZON and the children of Haiti who we will feed and nourish, I am deeply indebted for the social media marketing that Julie Spira provided for this benefit concert. Without her creating a 'buzz' in such a short time, I am certain the event would not have been the success it was. Thank you Julie

Dr. H. Eric Schockman
Former President of MAZON