Digital Family Reunion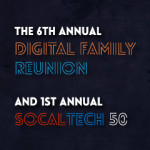 It's a holiday tradition for social media enthusiasts and technology executives…The Digital Family Reunion in Los Angeles.
On Wednesday, December 11, 2013 from 6pm – 10pm, join Southern California's largest holiday gathering of technology and digital media professionals at the Skirball Cultural Center. In partnership with socalTECH.com, DFR '13 will honor the inaugural socalTECH 50 list of emerging visionaries, technologists and entrepreneurs most likely to create the next breakout company, technological leap, or otherwise influence the industry in a significant way.
The event started off as a gathering of Web 1.0 and Web 2.0 strategists and has evolved to being the holiday party of the season.
Now, it's no secret that the SoCal tech scene is on fire. Google, YouTube and others have opened major offices in LA. Incubators abound, and start-ups are emerging once again from garages, coffee shops and co-working spaces across the region. Even in December, it's going to be hot hot hot!
Who Will Be There?
With 40+ community partners and sponsors reaching out to their core constituencies, it will be a mash-up of who's who in social business and tech. This cross-disciplinary affair ensures a room full of people you just have to meet, including those being honored at the socalTECH 50.
Tickets are $50, but we've got a promo code to save you $20.
REGISTER NOW at http://www.digitalfamilyinc.com and use promo code DFR30 at check out.
We look forward to seeing you there.