You are here:
Home
/ Archives for Julie Spira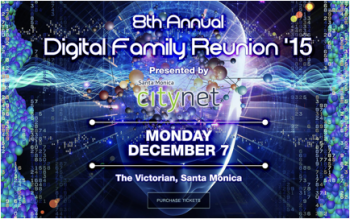 Come one, come all to the annual Digital Family Reunion holiday party!
This year we will be gathering at the Victorian in Santa Monica, CA for what will be the largest digital holiday party in Los Angeles.
We are pleased to offer $10 off your ticket price with the promo code of  DFR15.
Please reserve your tickets on Eventbrite.
We look forward to seeing you there.
What: Digital Family Reunion Holiday Party
When: Monday, December 7, 2015 6p-11p
Where: Victorian, 2640 Main Street, Santa Monica, CA
Why: Because all of the cool digital peeps will be there!
About Digital Family Reunion
Digital Family Reunion '15 celebrates and connects Southern California's Technology and Business Communities. In association with some of the region's top trade associations and social networking groups, the 8th annual Digital Family Reunion promises to help weave our various communities of interest into the larger collective family of professionals working in and around the technology industry. DFR '15 will cross pollinate leaders from all the major industry sectors such as media, entertainment, finance, publishing, venture funding, software, commerce, education, and many more. Join us for the Holiday Event of the Season.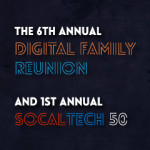 It's a holiday tradition for social media enthusiasts and technology executives…The Digital Family Reunion in Los Angeles.
On Wednesday, December 11, 2013 from 6pm – 10pm, join Southern California's largest holiday gathering of technology and digital media professionals at the Skirball Cultural Center. In partnership with socalTECH.com, DFR '13 will honor the inaugural socalTECH 50 list of emerging visionaries, technologists and entrepreneurs most likely to create the next breakout company, technological leap, or otherwise influence the industry in a significant way.
The event started off as a gathering of Web 1.0 and Web 2.0 strategists and has evolved to being the holiday party of the season.
Now, it's no secret that the SoCal tech scene is on fire. Google, YouTube and others have opened major offices in LA. Incubators abound, and start-ups are emerging once again from garages, coffee shops and co-working spaces across the region. Even in December, it's going to be hot hot hot!
Who Will Be There?
With 40+ community partners and sponsors reaching out to their core constituencies, it will be a mash-up of who's who in social business and tech. This cross-disciplinary affair ensures a room full of people you just have to meet, including those being honored at the socalTECH 50.
Tickets are $50, but we've got a promo code to save you $20.
REGISTER NOW at http://www.digitalfamilyinc.com and use promo code DFR30 at check out.
We look forward to seeing you there.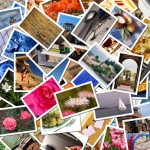 It seems that sharing photos on Facebook replaced baseball as the favorite pastime for digital enthusiasts. When Instagram came on the scene, celebrities embraced the photo-sharing site and Facebook grabbed it for $1billion.
Our love affair with Facebook started to wane with the multiple and confusing changes to their privacy settings. Even social media experts like myself had to study each change in detail to be able to explain it to my clients and to use it properly without offending others.
Then the big netiquette no-no happened. Mark Zuckerberg's sister Randi posted what she thought was a private photo on Facebook, which appeared in a stranger's tweet on Twitter. One can easily wonder how this can happen and not know the answer. Even Zuckerberg wasn't sure why, but her public twitter engagement with @cschweitz clearly broke the rules of netiquette.
Sure when we're upset we post before we think. Most don't know that the Library of Congress now indexes tweets, permanently.
According to the New York Post, Zuckerberg's older sister, Randi, complained yesterday when one of her Twitter followers publicly posted a photo of the family, including her famous brother, standing in the kitchen reacting to the company's new Poke app.
"Not sure where you got this photo," Randi tweeted in response @cschweitz. "I posted it only to friends on FB. You reposting it on Twitter is way uncool."
When Garret Sloane from the New York Post called me to discuss this story that was going viral, I explained that we create a permanent digital footprint every time we post an update, photo, video, or tag people in photos, whether they appear in them or not.
I've always had a digital rule of thumb that when I snap a photo of someone else or a group at a party, I stop and show them the photo and ask if I can have their permission to post the photo to Facebook. If you're automating your Facebook feed to Twitter, it's there for the entire world-wide-web to see, even if your Facebook privacy settings are set to "friends only."
Another rule of netiquette is to take your digital beefs privately. If you have something to say that isn't flattering or is attacking another, send them a private message on Twitter if they're following you. If you need to respond, do so privately and request that they follow you as well if they're not.
"I'm just your subscriber and this was top of my newsfeed. Genuinely sorry but it came up in my feed and seemed public," Schweitzer responded to Randi.

"Digital etiquette: always ask permission before posting a friend's photo publicly. It's not about privacy settings, it's about human decency," Randi admonished in a tweet after the photo was removed.
As I told the New York Post, social media is about: sharing experiences. If you post something on the Internet, it will be shared by strangers.
Unfortunately, we're learning the lessons the hard way, especially when Facebook keeps changing the rules.
Julie Spira is a social media strategist and netiquette expert who writes about digital etiquette and intersection of love and technology.  Julie's the author of the "The Rules of Netiquette: How to Mind Your Manners on the Web" and CEO of Social Media and More.
To connect with Julie, visit RulesofNetiquette.com, follow @JulieSpira on Twitter and at Facebook.com/RulesofNetiquette.
Photo Credit – maigi – Fotolia.com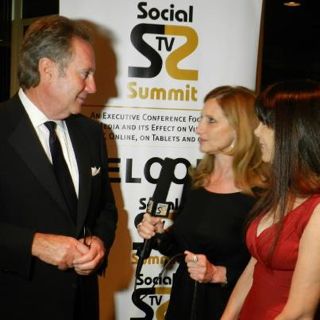 Just how social are  your TV viewing habits? At the 1st annual Social TV Awards held at the Bel-Air Country Club, over 200 social media and broadcasting executives walked the red carpet and had the opportunity to vote for the Social TV "Best of Show Award."
Social TV Summit CEO Andy Batkin curated the event and said, "One day I believe the Social TV Awards will be on par with the Academy Awards and the Emmy's." Master of Ceremonies Billy Bush gave his introduction via video along with an apology due to a bicycle accident injury. The Insider's Kevin Frazier, one of the many distinguished judges, graciously stepped in to host the event, which was attended by 200 industry executives.
And the winners of the 1st Social TV Awards were:
1.     Best Cable Network – USA Network, Psych Hash Tag Killer
2.     Best Online Video – Team Coco, Conan O'Brien Show – Turner Broadcasting
3.     Best Research Social TV Platform – Bluefin Labs, Bluefin Signals
4.     Best Check-in and Loyalty – GetGlue
5.     Best Social TV Companion to Home Video or DVD
– Tron Disney Second Screen, TV Plus
6.     Best TV Show Specific – X Factor Cross Platform Experience, Fox Broadcasting/Syco TV/FremantleMedia
7.     Best Branded –
Red Bull Shazam App, Shazam
8.     Best Drama –
Heartland Ranch – Canadian Broadcast Corporation
9.     Best Social Commerce or Marketing Program –
Fashion Star, Electus
10.   Best Special Entertainment
– Grammy's Live – CBS Interactive
11.    Best Connected TV – Amnesty International's Secret Policeman's Ball – EPIX
12.   Best White Label Social TV Application or Solution
– TIE: Mass Relevance and ECHO
13.   Best Ubiquitous – ConnecTV
14.   Best Social TV Integration of Facebook
 – The Voice 5th Coach App – NBC
15.   Best Social TV Integration of Twitter
– X Factor Cross Platform Experience, Fox Broadcasting/Syco TV/Fremantle
16.   Best Mobile Phone, iPad or Tablet Social TV Application
–The Walking Dead – Story Sync, AMC
17.   Best Sports Social TV Award
– Chevy Game Time, Detroit Labs
18.   Best Broadcast Network – NBC, NBC Live
19.   Social TV Entertainer of the Year – Andy Cohen – Host of Watch What Happens LIVE and EVP, Development & Talent, Bravo Media
20.   Social TV Marketer of the Year – Jesse Redness SVP Digital, USA Network – USA
21.   Social TV Best of Show – X Factor Cross Platform Experience – Fox Broadcasting/Syco TV/FremantleMedia
Top Photo – Andy Batkin, Marla Schulman, Julie Spira (L-R). Photo Credit: Social TV Daily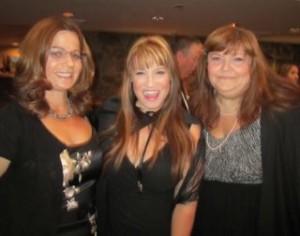 Lori Schwartz, Amber J. Lawson, Stephanie Piche (L-R)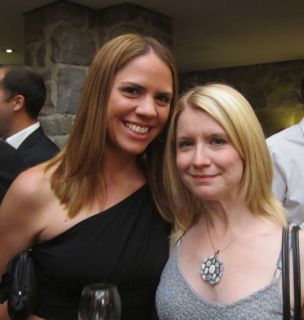 Amanda Coolong (R)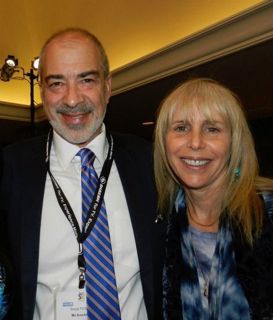 Mo Krochmal and Gayl Murphy: Photo Credit Social TV Daily

For more photos from the event, visit SocialTVDaily.com
Follow @JulieSpira on Twitter and like us at Facebook.com/socialmediaandmore
Many of you have enjoyed the social media benefits

of automating your Tweets to appear on Linkedin as well. Using the simple hashtag of #in, your selected tweets have appeared on your Linkedin profile's stream for three years.
We regret to inform you that the digital party is now over – well, almost.
In a letter from Linkedin today, they've advised their members that any updates initiated on Linkedin can still appear on your Twitter profile if you check off the box to do so. However, Twitter isn't reciprocating anymore.
Will this change how you schedule and post your updates on Twitter and Linkedin? The full text of the letter appears below.
LinkedIn and Twitter have worked together since 2009 to enable you to share your professional conversations on both platforms. Twitter recently evolved its strategy and this will result in a change to the way Tweets appear in third-party applications. Starting today Tweets will no longer be displayed on LinkedIn.

We know that sharing updates from LinkedIn to Twitter is a valuable service for our members. Moving forward, you will still be able to share updates with your Twitter audience by posting them on LinkedIn.

How can I continue to share updates on both LinkedIn and Twitter?
Simply start your conversation on LinkedIn. Compose your update, check the box with the Twitter icon, and click "Share." This will automatically push your update to both your LinkedIn connections and your Twitter followers just as before.

What changes can I expect to see on LinkedIn?
Any conversation you start on Twitter will no longer be automatically shared with your LinkedIn network, even if you synced your LinkedIn and Twitter accounts.

If you would like more information about what this means for your synced LinkedIn and Twitter accounts, please visit our related Help Center topics.

Thank you,
The LinkedIn Team
It was an honor and pleasure to be a panelist at the Digital LA Books Go Digital Panel held at The Churchill in West Hollywood.
Moderated by Digital LA's founder Kevin Winston, I was joined by Babette Pepaj of Bake Space and creator of CookBook Cafe and Brian Felson, CEO and founder of BookBaby.
A lively discussion included how to build your platform through social media, advances and royalties, Amazon's Singles, and ways to self-publish your book. As an author of a book whose sales on Kindle are at a 3:1 ratio compared to the paperback edition, I was happy to share Kindle's 70% royalty rate to authors who sign up directly with Amazon's Kindle Direct Publishing service.
Whether you self-publish or have your book traditionally published, you must have a digital online strategy. For my first book, I offered two free chapters on my website and wrote daily on my blog to create buzz for the book. For my second book, The Rules of Netiquette, I created two websites and am offering a free chapter to download with 200 Acronyms.
Babette gave demos of CookBook Cafe, their new free iPad app which will allow you to publish your cookbook on their digital bookshelf. Anyone can download the app for free. You can charge for your book or provide your favorite recipes for free.
Brian explained BookBaby's revenue model costs $99 upfront which will give you an .epub and .mobi version of your content. After the first year, with an annual fee of $16.95 after the first year. BookBaby gives 100% of the royalties they receive to the authors. This is a terrific way to distribute your books if you own the rights and appear on multiple platforms including Barnes and Noble's Nook, Amazon's Kindle, iBooks, Sony Reader store, and more.
At the end of the digital day, you must have an electronic strategy as an author, publisher, and content provider.
Julie Spira is a social media strategist and CEO of Social Media and More. She's a bestselling author and works with writers and authors on how to create a social media marketing plan to become successful with their books. Visit SocialMediaMore.com and like us at Facebook.com/SocialMediaAndMore
Filed under Social Notebook · Tagged with babette pepaj, bakespace, book promotion, bookbaby, books go digital, brian felson, cookbook cafe, digitalla, ebook strateg, how digital are your books, julie spira, Social Media for Authors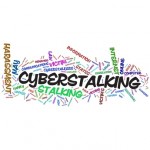 When I was asked as a cyber-relations expert to contribute to an article about cyberstalking and social media safety for Women's E News, I was honored to provide my two cents worth.
The story appeared in the Ottowa Citizen, Cyberstalking turns web technologies into weapons. The article headline is pretty powerful and will raise several digital eyebrows.
Before you accuse me of being a "Debbie Downer," you should know that I absolutely love social media. It's changed all forms of communication, marketing, journalism, and helped develop strong bonds between people who have a voice that should be heard.
When it was pointed out to me that the U.S. National Violence Against Women Survey reported that 60% of cyberstalking victims were women, I realized that we all have a responsibility as friends on Facebook and followers on Twitter to take notice if any of our digital friends are in trouble.
In the U.K., a cyberstalking study conducted by the British Electronic Communication Harassment Organization at Bedford University found that harassment via social networking sites, mobile phone, and email was greater than stalking in-real-life.
As an estimated 4% of cyberstalkers appear on traditional online dating sites, my advice in the article was as follows:
"If a date goes bad or someone breaks up, the jilted person can use the very sites through which they met their victims to turn around and harass them," says Julie Spira, creator of the site Cyberdatingexpert.com."
It's my mission to help people safely navigate the web, both in matters of the heart and in everyday life. Cyber-safety is at the top of my list and I hope you join me in making the the world-wide-web a safer place to reside.
Julie Spira is a cyber-relations and online dating expert and the author of the bestseller, The Perils of Cyber-Dating. She's the CEO of Social Media and More and Editor-in-Chief at CyberDatingExpert.com.
Photo Credit: © MacX – Fotolia.com
It was an honor to be a featured speaker at the Society of Professional Journalists' "Best of the West Conference 2012 Spring Conference" with the latest trends in social media marketing. Being held the day after Facebook officially transferred to the Timeline for their Pages, there were many questions being asked about privacy, accuracy, and how you become your brand as you curate and report on news stories.
With breaking news stories online, accelerated deadlines of instantly reporting the news, often journalists and web enthusiasts have made mistakes rushing to the digital plate to post the first tweet.
Some key points for journalists to note are:
Deadlines are now immediate.
Breaking news and trending stories are online.
Reporters are now real people posting videos.
Glossy magazines and newspapers have been replaced with blogs.
How social media played a key role in the Arab Spring: Protests in Egypt, Tunisia Revolution and Middle East.
We looked at the example of social media and death reports. When Osama bin Laden was reported dead on May 1, 2011, it was tweeted over 5000 times per second. With the excitement, many broke the rules of netiquette and used the incorrect hashtag of #obamadeath instead of #osamadeath.  Fortunately, our President was alive-and-well.
Maintaining your digital and journalist reputation, often you need to pause to be certain of the facts. Once you press the send button, you can't take it back and may create a permanent digital footprint.
We reviewed the latest social media statistics including:
Twitter:  Over 225 million members with 250 million tweets being sent daily.
Linkedin: Over 150 million business professionals.
Facebook: Over 845 million members.
Pinterest: Over 10 million members and drives more traffic to websites than Google+, Linkedin, and YouTube combined.
I was joined by Ellen Olivier, founder of Society News LA who discussed her career as the society columnist at the Orange County Register to the Los Angeles Times. Olivier successfully migrated from print journalism to online by creating her an online magazine covering society news stories in the region. In less than one year, ranks #1 in her keywords.
Following our presentation, we attended the "Mark of Excellence Luncheon," where the keynote speaker was Tom Goldstein of The Bay Citizen. Goldstein is interim dean, professor of Journalism and director of the Media Studies Program at UC Berkeley's Graduate School of Journalism.
After the awards ceremony, Frank Mottek, host of the "Business Hour" on KNX – Los Angeles, moderated a panel entitled, "Freak Out!"
Mottek shared the details of his radio career, where he started on the air at WINZ in Miami. He then covered the maiden flight of the Space Shuttle Atlantis on October 3, 1985. At the young age of 23, Mottek covered the tragic Space Shuttle Challenge launch with CBS Network's correspondent Christopher Glenn and shared that experience with those in attendance.
Mottek was joined by KNX reporter Diane Thompson, CBS News editor David J. Singer, and Crisis Intervention Specialist Leslie Seppinni. Together, all four discussed how reporters can become emotionally devastated while on the job covering tragic events. One can only imagine if Twitter were around during the Rodney King riots or the Challenger explosion, what photos would be shared via Twitpic, Flickr, and Instagram.
At the end of the digital day, I reminded everyone to "Blog like you're the best, Tweet like no tomorrow, and have them fall madly in Like with you on Facebook."
Many thank to Jeff L.Wald for inviting me to speak at SPJ's Spring Conference on Technology and Social Media.
Follow @JulieSpira on Twitter

Today was the big day that many weren't waiting for. Facebook officially migrated to the Timeline for pages. If you're feeling a bit overwhelmed, you're not alone. Many pages are still left blank without a cover photo. Even if you changed your cover photo, you might notice some unattractive pale blue application boxes on your page. This used to be the "Tabs" section and it's now called "Apps." We'll provide a step-by-step list of how you can customize those thumbnails below.
With Facebook's Timeline change comes a list of rules that you need to adhere to as part of Facebook's Terms of Service and Guidelines.
Changing your Facebook thumbnail cover is no easy task, so we've listed detailed instructions on how to do this on your own.
First of all, review your page apps (formerly tabs) that might have been coded as FBML, Facebook's version of html code. Your old applications may appear like these below:

To customize them to one of the four allowed boxes, follow these instructions:
1. Click on the upper right side of the photo box. In the drop down, you can swap positions with the other four you've shown and delete apps you aren't using.  Decide whether you want a map to your location, photos, likes, email sign up, or videos.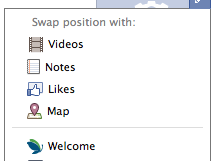 2. Go to your Admin Panel at the top of your page and click on "Manage."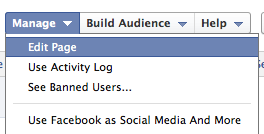 3. In the drop down, select edit page.
4. On the left side bar, click on "Apps"'
5. Click on "Go to App" and you can change the Title of the Box.
6. Click on Edit Settings and you'll find "Custom Tab Image." This is where you upload your thumbnail photo to replace to pale blue default image.  You can also change the name here of the title of the app.
7. Click on OK and then you can move around the location of that particular app to appear on your page.
This is a perfect for you to build your mailing list or offer a free eBook on the front of your Facebook page.

Remember, while it might be easy to add a photo to your new cover, there are some things Facebook just doesn't want you to include including your URL, requests to like your page or follow,  or any direct sales action calls. Facebook wants your contact information with links to your business or offers to appear in your "About" section as shown above on our Rules of Netiquette page, where we also added a custom app with a cover providing a free chapter of an upcoming book.
To sum it up remember to optimize your new page by:
Add a cover photo of 851 x 315 pixels that describes your business and is pleasant to look at.
Add hyperlinks in the "About" section of your page to draw traffic to your website or specific offer.
Customize your thumbnails and upload videos directly to your page so your customers can engage with you.
Include your email subscriber embed code from your email provider and make sure to rename your offer.
Remember to "Pin to the Top" your important posts, which will remain at the top of your page for seven days or up until you decide to pin something else.
Do you have any Facebook timeline tips that you'd like to share? Please add them in the comments.
Julie Spira is a social media strategist, bestselling author, and CEO of Social Media and More. Visit SocialMediaMore.com for more social media and facebook tips and like us at Facebook.com/socialmediaandmore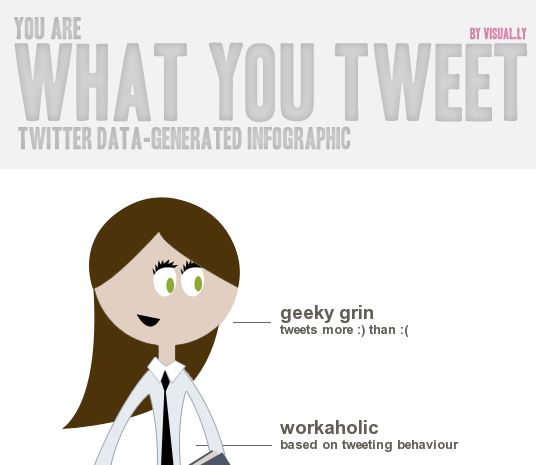 Who said creating an Infographic would break the bank?
Not a day goes by that I don't see an interesting Infographic on a variety of subjects, which I happily add to my pinboards on Pinterest. Infographics are engaging, pleasant to look at, are filled with interesting statistics, and loved to be shared in the social media world.
The fine folks at visual.ly have a few free infographic tools based on your Facebook and Twitter profiles.
You can choose from the following topics:
Life of a Hashtag
Facebook Monster
Twitterize Yourself
Twitter Showdown, where you can go solo or compare yourself to one of your digital idols.
To do so, visit their site at create.visual.ly, like the on Facebook and follow them on Twitter.
Then select the template you'd like to use. You can share the link, or embed it in a blogpost as I've done below.
Enjoy!
For more information on social media strategy, like us at Facebook.com/SocialMediaandMore and follow @JulieSpira on Twitter.
PICK MY BRAIN!

Have a question about Social Media? I'll critique your site or blog, take a quick peek at your social media, and give you my expert opinion. Get 20 valuable minutes of my time to ask me anything.

CONNECT WITH US!

TESTIMONIALS

Julie has always been on the leading edge of internet expertise. She was there when the web first became a viable commercial medium and was a leader in understanding and executing in Web 2.0.

~Roger Chiocchi
Brandloft